An active bond strategy that focuses on issuer and security selection to exploit opportunities primarily in the European investment grade corporate bond market.
High quality research: Our independent, bottom-up, global credit research results in a deeper understanding of issuer and industry dynamics. Strategy performance is driven by issuer and security selection, resulting in a return profile which is tied to spread volatility rather than the direction of the market.
Trusted investment team: Our highly experienced and wellresourced team of investment specialists employ a disciplined and repeatable process and draw on the idea generation and insights from across our global fixed income team and wider investment platform.
Consistent performance track record: The strategy aims to deliver strong returns across a range of market conditions by exploiting credit opportunities in the market and delivering consistent positive excess returns with lower volatility than the overall European investment grade market
Strategy inception date
9 July 2008
Benchmark index
iBoxx European Corporate
Peer group
UK IA – Global Bonds

The strategy's investment approach is built around robust credit research, portfolio construction and risk management. 
Fundamental credit research and issuer selection
Issuer and security selection is driven by a credit research process that surveys the global opportunity set to select those investments that offer the best risk-adjusted returns. Analysis is performed by a team of experienced analysts who develop independent, fundamental views of the industries and companies they focus upon and their credit quality. Our research considers business strategy, management strength, competitive position as well as a variety of financial metrics.
The credit analysts deliver formal investment recommendations, risk ratings and internal credit ratings for the issuers they follow. These recommendations and ratings, in combination with a relative value assessment of each issuer, form the basis of security selection.
Portfolio construction and risk management
The ultimate aim of the portfolio construction process is to own our favoured issues and issuers, expressed in a size that is consistent with the portfolio's risk and return objectives and ensuring that any resulting industry and overall portfolio credit beta is not out of line with our team's industry or credit market risk views. Duration positions will typically be minimal and all noneuro exposure is hedged back to this currency.
Risk management is embedded in our investment process and we employ both quantitative and qualitative techniques to measure and manage risk in the portfolio. Each investment recommendation is accompanied with a thesis statement, which includes an issuer risk score. This statement includes the analyst's expectations (and risks around) the evolution of financial metrics, operating results and management behaviour. In addition, analysts set out which parts of the thesis are critical to the recommendation and list the events that might trigger a change in view. These inputs form the basis of portfolio construction, position sizing, risk monitoring and our sell discipline.
The overall level of credit market risk in the portfolio will be driven by the recommendations of the Fixed Income asset allocation team and country exposure is always closely monitored.
Head of Investment Grade Credit, EMEA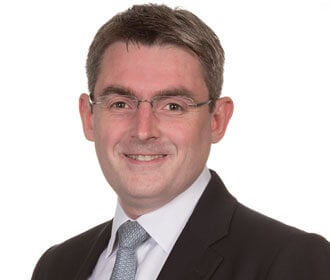 Head of Investment Grade Credit, EMEA
Alasdair Ross is Head of Investment Grade Credit, EMEA, with responsibility for our UK and European investment grade corporate credit teams based in London. Alasdair is lead portfolio manager across various global, euro and UK corporate credit portfolios including Threadneedle (Lux) Global Corporate Bond Fund, Threadneedle European Corporate Bond Fund, Threadneedle UK Corporate Bond Fund and is also deputy portfolio manager on the Threadneedle Credit Opportunities Fund.
Alasdair's investment background is as a fundamental, bottom-up, investment grade credit analyst. Between joining the company in 2003 and becoming a portfolio manager in 2007, he had responsibility for covering the TMT, utility and energy sectors, as well as the sterling whole business securitisation sector.
Prior to joining the company, Alasdair worked at BP plc in a rotation of commercial roles.
Alasdair has a first-class honours degree in Politics, Philosophy and Economics from the University of Oxford. He also holds the Chartered Financial Analyst designation.
For use by institutional clients and consultants only (not to be passed on to any third party). Past performance is not a guide to future performance. The value of investments and any income is not guaranteed and can go down as well as up and may be affected by exchange rate fluctuations. This means that an investor may not get back the amount invested. Where references are made to portfolio guidelines and features, these are at the discretion of the portfolio manager and may be subject to change over time and prevailing market conditions. Actual investment parameters will be agreed and set out in the prospectus or formal investment management agreement. Please note that the performance targets may not be attained. The research and analysis included in this document has been produced by Columbia Threadneedle Investments for its own investment management activities, may have been acted upon prior to publication and is made available here incidentally. Any opinions expressed are made as at the date of publication but are subject to change without notice and should not be seen as investment advice. Information obtained from external sources is believed to be reliable but its accuracy or completeness cannot be guaranteed. Issued by Threadneedle Asset Management Limited, registered in England and Wales, No. 573204. Registered Office: Cannon Place, 78 Cannon Street, London EC4N 6AG. Authorised and regulated in the UK by the Financial Conduct Authority. Columbia Threadneedle Investments is the global brand name of the Columbia and Threadneedle group of companies.
Millions of people around the world rely on Columbia Threadneedle Investments to manage their money. We look after investments for individual investors, financial advisers and wealth managers, as well as insurance firms, pension funds and other institutions.
Columbia Threadneedle Investments has a comprehensive range of investment funds catering for a broad range of objectives.
Teamwork defines us and is fundamental to our investment process, which is structured to facilitate the generation, assessment and implementation of good, strong investment ideas for our portfolios.